FAMILIARITY. Imperial Myths. Unexpected Queerings.
Exhibition and 5 o'clock Tea
30.10.-27.11.2015
Simone Bader, Amoako Boafo, Rehad Desai, Mulugeta Gebrkidan, Maren Grimm, Lydia Hamann+Kaj Osteroth, Jakob Krameritsch, Sabelo Mlangeni, Ruby Sircar
Opening: 29.10.2015, 7pm
Programme:
03.11., 5pm: 5 o'clock Tea #1 Rooibos: Artist Talk: Sabelo Mlangeni/Jakob Krameritsch
18.11., 5pm: 5 o'clock Tea #2 Orange Blossom: Film Screening: "Aus der Distanz schwer möglich. Potemkin, Platin, Postkolonial": Maren Grimm/Jakob Krameritsch
18.11., 7pm: Film Screening: "Miners Shot Down": Rehad Desai
21.11., 2pm: Guided Tour: Vienna Artweek
24.11., 5pm: 5 o'clock Tea #3 Punch: Artist Talk: Mulugeta Gebrekidan/Simone Bader/Andrea Braidt
THE FAMILIARITY CONCEPT
What is familiarity? According to Webster's Dictionary the state of being familiar with/familiarity includes a range of possible interpretations – the most positive one: being close and intimate. But it also enfolds other possible meanings such as impropriety and includes notions of forced closeness. Bondings and entanglements which allow familiar relations and perspectives thus ensure a wide range of interpretations, especially when connected to various art forms and contents.
The invited artists and participants of the exhibition project all play with imagined, possible and actual familiarities which are rooted in decolonizing practices and invite the public to share their perspectives on migration, decolonization and queer artistic practices.
THE 5 O'CLOCK TEA CONCEPT
What could be more imperial then a steaming hot cup of tea, consumed with a cucumber sandwich? Going back on a traditional late-afternoon entertainment format, also practiced early on at the VBKOE, the project tries to break and discuss colonial images. So lean back and enjoy neo-imperiality deconstructed.
VBKÖ - Vereinigung bildender Künstler*innen Österreichs, Maysedergasse 2/4. Floor, 1010 Vienna
Opening Hours: Fri/Sat 3-7pm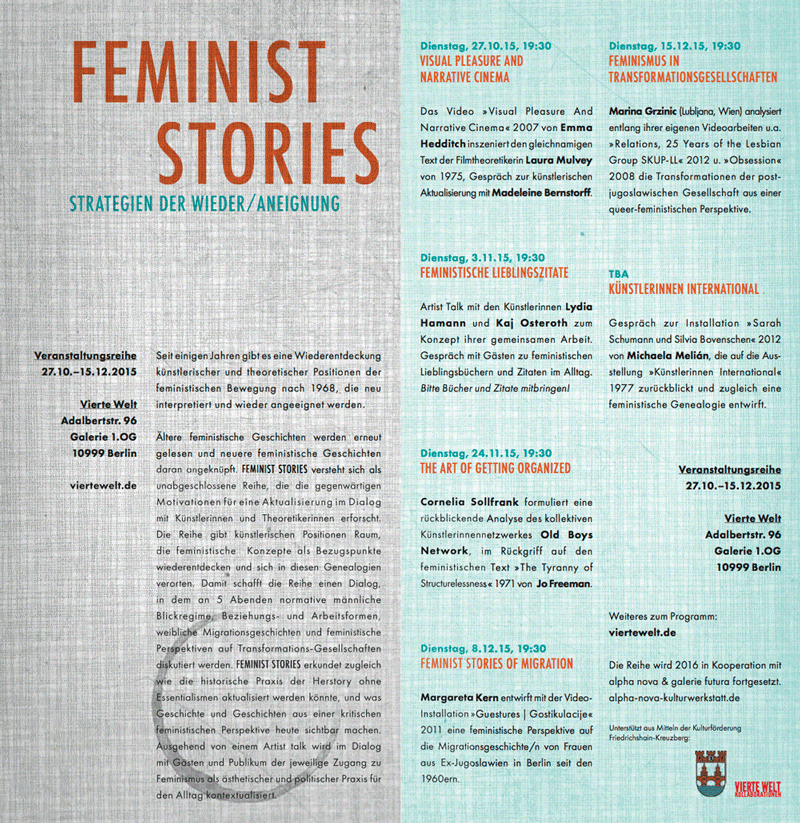 [ # 2 ]  Di. 03. Nov. 2015 | 19:30 Uhr | Bar 18:00 | Eintritt frei

FEMINISTISCHE LIEBLINGsZITATE
Die Künstlerinnen Lydia Hamann und Kaj Osteroth zitieren in ihrem großformatigen Aquarell "When I am at home I am the perfect example of a person" explizit das Buch "Caliban and the witch" von Silvia Federici und weitere feministische Texte, die dort als alltags- weltliche Bezugspunkte der eigenen Lebensform symbolisiert werden. Zum Auftakt des Abends werden mehrere großformatige Aquarelle/Malereien von Hamann/Osteroth und ihre Bezüge zu feministischen Theoretikerinnen und Künstlerinnen in Form eines Artist Talk vorgestellt.
Daran anschließend werden Künstlerinnen und andere feministische Aktivist_innen aus dem Berliner Umfeld dazu eingeladen, jeweils ein oder zwei feministische Bücher/Zeitschriften/Texte oder auch kurze Zitate mitzubringen und ihren Bezug dazu vorzustellen. Im Gespräch mit Künstlerinnen, Gästen und Publikum möchten wir sichtbar machen, was für die eigene feministische Sozialisation wichtig geworden ist. Welche Texte wurden in letzter Zeit wiederentdeckt und welche sind weiter weg gerückt? Welche Bezüge zu anderen Generationen von Feminismen gibt es?
In der Veranstaltung geht es um ein Gespräch über Bücher und Zitate, die jedoch nicht in theoretischen Inputs vorgestellt werden, sondern als Bezugspunkte und Aneignung für eine künstlerische und politische Praxis. Wie haben wir zu diesen Texten gefunden? Wann und mit wem wurden sie diskutiert? Bitte bringt Bücher/Zitate mit, die wir zu Beginn des Abends  auf einem Tisch auslegen und später gemeinsam besprechen wollen!
Gespräch in deutsch/englisch mit gegenseitiger Unterstützung für alle Teilnehmenden.
http://www.viertewelt.de/archiv/kleine_formate/2015/feminist_stories_reihe.html